FOR IMMEDIATE RELEASE
Date: 11/13/2012
Contact: Felice Bassuk (Producer/Writer), 708.655.9590, [email protected]
Following its selection into three film festivals in New York, Los Angeles, and New Delhi, India, producers of the short film are teaming with the Manhattan Smoke-free Partnership and Harlem Hospital to promote a smoke-free city during the American Cancer Society's 37th annual event.

New York, New York – THE CALL, which will be released on Nov. 15, 2012, will have representatives on-hand to promote its anti-smoking message by distributing free "cold turkey sandwiches" during the smoking cessation educational event. The sandwiches are meant to reinforce the Great American Smokeout's initiative to encourage quitting "cold turkey" starting on Nov. 15th, and to reinforce the strong anti-smoking theme of the award-winning film.
"The message is powerful and certainly will make a smoker think twice before lighting up again", observed Lisa King, Director of the Brooklyn Film Festival's kidsfilmfest. Without using statistics or scary graphics to convey its message, THE CALL subtly and effectively offers a glimpse into the emotional impact of losing a loved one from smoking.
In addition to the cold turkey sandwiches giveaway, several NYC middle school health educators are showing THE CALL to students during the Great American Smokeout as an innovative teaching tool. Teachers at Frederick Douglass Academy and Global Neighborhood Secondary School are among those who have received advance copies of the DVD along with the special edition teacher's guide, both of which will be available to the public beginning Nov. 15th via www.thecallmovie.org.
"The film has the potential to open kids' minds to the emotional costs of smoking at a stage when they can still hear this lifesaving message", noted Michael Thun, MD, with the American Cancer Society. Shot on Will Rogers State Beach in Santa Monica, CA, the film features two young stars, Ryan Newman (Monster House, Zeke & Luther, See Dad Run) and Jonathan Morgan Heit (Bedtime Stories, Date Night, Jake and the Never Land Pirates).
More information about THE CALL, along with DVD sales and download links, is available at www.thecallmovie.org. Pictures from these events will be available shortly at www.facebook.com/thecallmovie. The cold turkey sandwich giveaway will be held 1-4 p.m. on Nov. 15th at Harlem Hospital's MLK Pavilion, room 6101.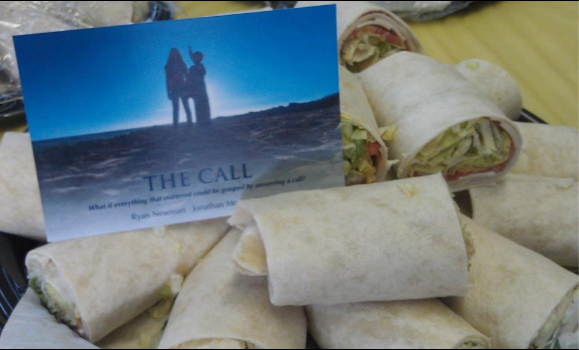 – ### –